The North Carolina dove season opens in two days. I plan to be there with my buddy Tom's family. This year, I'm taking my wife and son with me. At the moment, it's the only interstate hunting trip I make, but this is my 4th trip to Kinston in 5 years. I'm just getting started.
In a year or two, I'm hoping slater will join me on the hunt.
I will also be hunting at a veteran's public land dove shoot next weekend in St. Stephen, South Carolina. I talked about this event when I interviewed Joe Moran. He played a big role in getting it started (thank's Joe) seven years ago. This will be my second year participating.
In all, I've hunted dove a total of 4 times. This is what I'm packing to take with me.
In the Bucket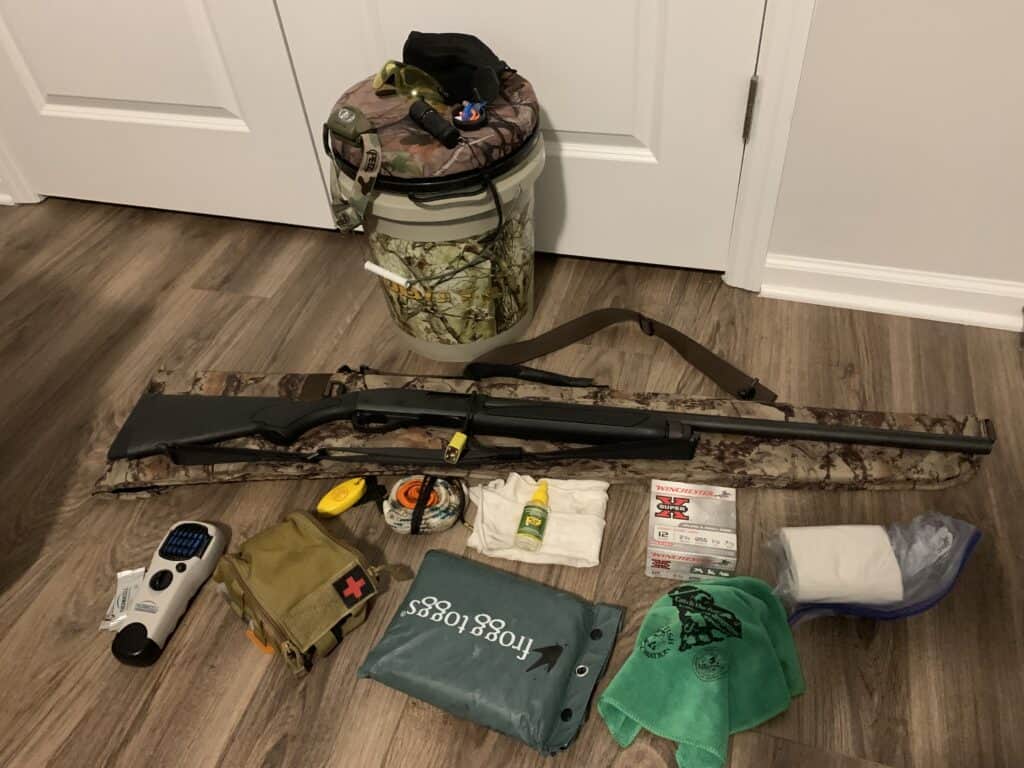 Ok, the gun won't fit in the bucket. Here's what I'm taking.
Personal Protective Equipment: Walker multi-lens shooting glasses. I like yellow first thing in the morning. I'll switch to a different lens later in the day depending on the light unless it's overcast. Surefire EP4 Sonic Defenders. I had a pair of muffs that I hated. These are pretty great. I've had tinnitus in my left ear for 6 years now. I'm thinking about getting electronic hearing protection. I also carry extra disposables in case someone forgot theirs.
Light: We're in the field before the sun, so I pack a headlamp and a flashlight. I use a Petzl TacTikka + RGB. I still have the first Petzl Tikka I bought, which was maybe in 2002. It still works, but it was never very bright. This model is 350 lumens and has White, Red, Green, and Blue light modes (in that order), multiple power settings, and strobe features. The flashlight is a Ledlenser T2QC. 140 lumens with White, Red, Green, and blue light modes (in that order).
Here's the key difference. The headlamp remembers the last setting you used. I like green when I'm walking in the woods in the dark while hunting. So I can set the headlamp to green, turn it off, turn it on, it's still green. The flashlight comes on in white, which is awful for night vision and moves through red to get to green. This seems like a design flaw.
Bucket: this is a Muddy Sportsman's Bucket. I think it was $15. I use it for fishing too. Maybe one day I'll drop $125 for a tricked out Yeti Load Out.
Scattergun: Remington 870 express 12 ga. 28″ barrel, modified cylinder choke, plugged for 3 shells. This was my first gun. I paid $279 dollars for it, new. It's my only shotgun. It won't be my last. I expect I'll hand it down to Slater someday.
I learned to shoot a shotgun for the first time probably in 2000. The USCG handed me a Remington 870 Marine Magnum. IIRC, the barrel was 14″. The training was "the slug will hit whatever is on the other side of the red dot." I'm not an accomplished winghooter.
Field Cleaning Gear: I like to keep it simple. I carry a boresnake, some Rem-Oil, and a rag whenever I'm in the field. I'll break the gun down and give it a proper cleaning when I come home.
Ammo: I'm taking 2-3/4″ 7-1/2 shot. I'll take 75 shells this year. Interestingly, the SC limit is 50 shells on public land. I'm probably not going to limit out, mostly because I still average more than 3 shells per bird. I haven't developed a dove load preference yet, but this is what Tom told me to use when I started.
I also meant to get some wing shooting instruction this year. I haven't figured out access to land on which I can practice shooting clays. I assume the Pareto principle applies here, and I can get 80% better by fixing 20% of what's wrong with my shooting ability. $300 for a couple lessons will probably pay for itself in saved ammunition.
Other Essentials: Camp money. First aid kit. Thermacell with refill fuel and repellent pads. A poncho. A golf towel. Water. Snacks.
On My Person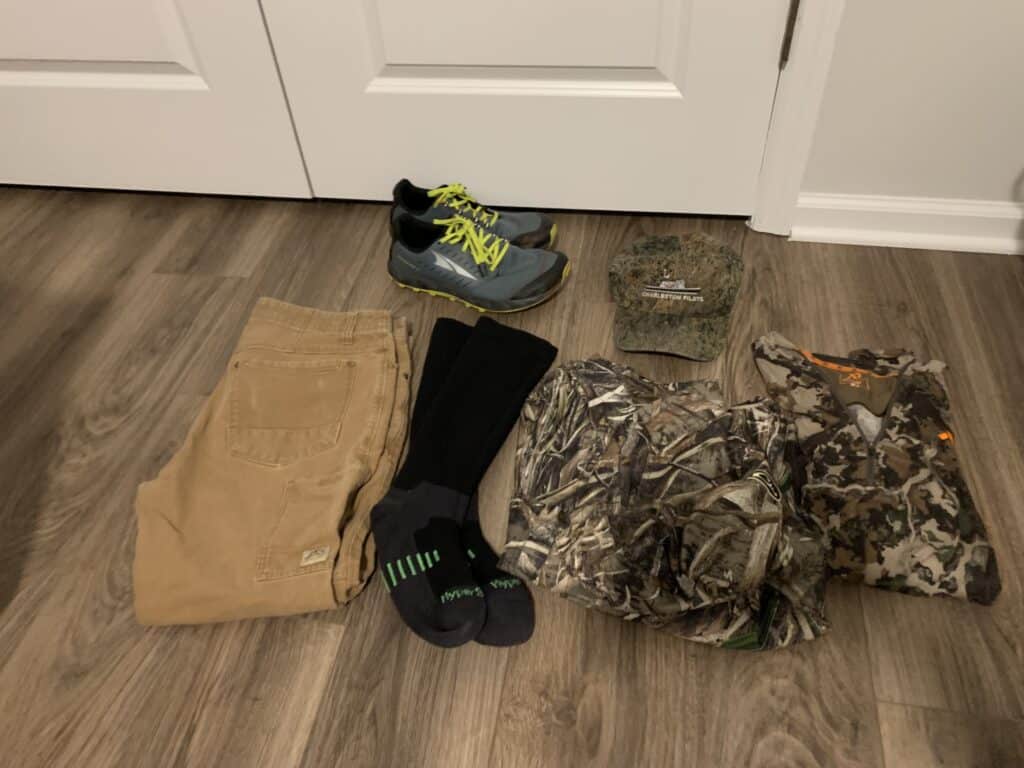 Hat: I got this camo hat for free. It does the things I expect my hats to do.
Top: I have a Drake Winghsooter shirt that I don't love, but it serves as a light wind breaker. I wear a First Lite Wick 1/4 zip next to skin. It feels good when it's in the 90's. Last year I forgot rain gear and it rained. The merino kept me warm enough to stay in the field.
Bottom: These are Eddie Bauer field pants. I've had them for about 10 years. They're in great shape. I'll probably wear synthetic boxer briefs underneath.
Feet: Hear me out. I spend a lot of time hunting in the Francis Marion National Forest. It occasionally gets down below 50 during hunting season. The terrain is flat flat. I commonly log 10 mile days through swamp.
I started with Muck chore boots because they were tall enough to keep me dry and protect me from all the snakes I read about. Also, I had them. Hiking in tall rubber boots makes for sweaty feet and blisters. I have gotten in over the top of my rubber boots. I have seen 3 snakes, none venomous.
I accepted that getting wet was an inevitabilty, so I tried these HyperShellz waterproof knee socks. They have a nylon/lycra outer, a waterproof/breathable membrane, and merino blend on the inside. I wore them with old Merrell Moabs that I just retired after 10 years of abuse. Now I'm using Altra Superior 5s which are 9 oz for the pair and super comfortable. I carry an extra pair of thick socks when I'm going to sit in the tree saddle in case my feet get cold.
This setup doesn't perform worse than boots in the swamp. It will probably be fine in a corn field. I wouldn't recommend trying this on steep, unstable terrain.
So that's it for this year. I'll probably update this as my gear choices evolve.