Spend some time eating oysters in South Carolina's lowcountry and you're bound to see Toadfish Outfitters teal shuckers.
I was curious about these knives. It seemed risky to start a business based around a tool that really only sees use in "r months" (September – April).
More importantly, I was curious about the mission behind the company.
I did a little research on the origins of Casey Davidson's company to quench my curiosity. He happens to be the kind of person I want to interview for the Hunting Fatherhood Podcast, so I reached out.
A venture with a vision
Casey started Toadfish Outfitters with the intent to help restore oyster habitat.
Oysters play a critical role in improving water quality, but their numbers are declining and have been for decades. Casey can trace 14 generations of his family to the coastal region between Charleston and Savannah, so it's no surprise that he's passionate about helping protect the waterways he grew up on.
Toadfish committed to improving 10 square feet of oyster habitat with every product sold, starting with the PUT 'EM BACK Oyster Knife. Its thoughtful, ergonomic design makes shucking safe and efficient. The handle is made with recycled post-consumer plastic, which diverts waste from landfills. Sturdy blade-through construction means the knife can last lifetimes, allowing it to be passed between generations.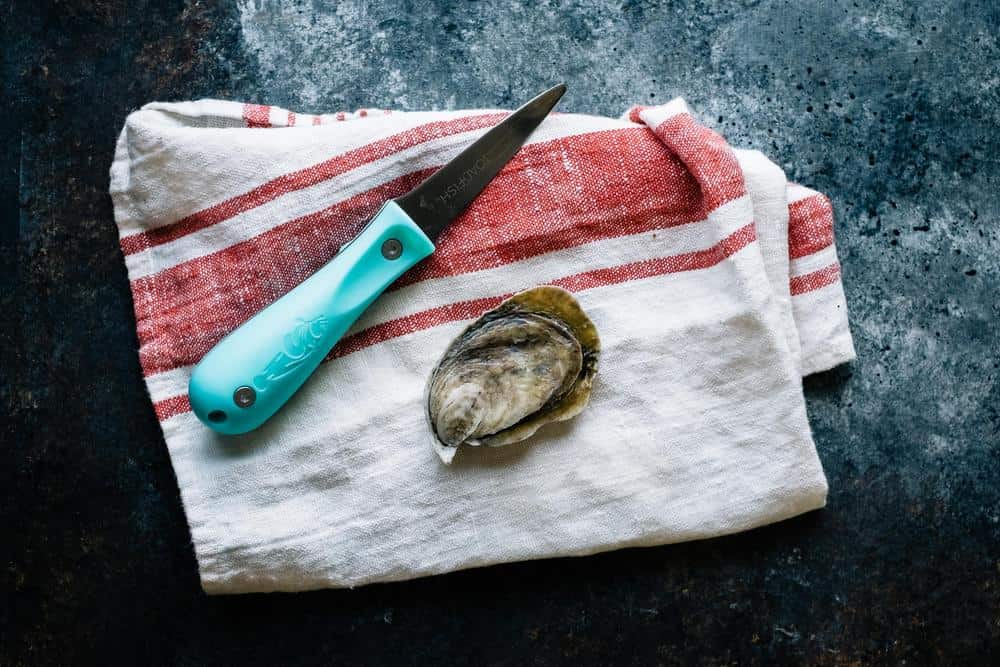 Casey grew Toadfish the old fashioned way, by courting boutique retailers. He also owns 8 patents that have enabled Toadfish to expanded its product line. They now offer no-tip can coolers, cutlery, and fishing poles. Most come in their signature teal. Casey told me the products he chooses to develop are inspired by a life lived near the coast.
Small bivalve, big Impact
The company formed the Toadfish Conservation Coalition (TCC) in 2019, doubling down on its commitment to conservation. TCC is a direct action nonprofit that contributes to oyster habitat restoration projects. They've worked in 6 states so far. TCC's board members have ties directly to the waterfronts of the South Carolina lowcountry and beyond.
A single oyster can filter 50 gallons of water per day. A million oysters will fit in an acre of healthy habitat. TCC had planted about 1.7 acres of oyster beds when I wrote this, which is enough oyster power to filter over 31 billion gallons of water per year. That's enough to cover Montana (the 4th largest state at 94 million acres) with more than a foot of water.
Casey's father taught him to hunt and fish at a young age, imbuing Casey with his conservation ethic passion for the outdoors. He and his wife Amanda share their conservation ethic with their two daughters, and through Toadfish to their loyal fans and customers.
The girls are still a little young for fishing, but Casey told me his oldest "throws perfect pancakes since she was 4". He's referring to a cast net thrown in a flat circle. Their catch sometimes goes into an aquarium to teach the girls about the marine life that lives in the creeks they fish on.
Casey gave me some sage advice on keeping toddlers interested when the time to introduce fishing comes around. "Fill the bait bucket first."
You can listen to my interview with Casey on the Hunting Fatherhood Podcast.