I've always been fascinated by maps. I became interested in Dr. Travis Hayes Folk after seeing a a commission his company produced for Modern Huntsman.
This map was interesting because it's artistic – rare in the days of computer mapping – and it shows regional hunting traditions that I know little about.
I had to know more, so I reached out to interview Travis for my nascent podcast.
I'm glad I did.
All in the family
Travis and I spent some time getting to know one another while on a leisurely walk around one of the properties he manages for his day job. He's a principal in his father's business – Folk Land Management.
Travis grew up around his dad's business, where he developed a love for maps. He also grew up hunting quail and ducks in the South Carolina lowcountry.
His passion for birds led him to graduate work at Auburn studying their habitat. He came back to work with his father after completing his PhD. He told me this was what he knew, and he never put much thought into doing anything else.
Together, the Folk team helps private landowners across the south manage wildlife habitat on their properties. Travis now resides in Mt. Pleasant, South Carolina, about an hour from Green Pond where he grew up, with his wife, two daughters, and a pair of hunting dogs Gauge (Llewelyn Setter) and Scout (Golden Retriever).
Everyone loves maps
Travis took up cartography out of a love for maps. Together with his partner Tony Waters, they started New World Cartography in 2015 as a passion project. The team creates bespoke maps for a variety of clients including private landowners, outfitters, magazines, and a documentary filmmaker.
"Everyone loves maps, and no one was doing anything like this.", Travis said when I asked about the inspiration for this company.
Travis creates a vision for for each map using modern mapping software. Tony and the rest of New World Cartography's artists transform them from tools to works of art with hand-drawn map features and thematic flourishes that bring Travis's visions to life.
Their work hangs on the walls of more than a few discerning cartophiles around the low country and the world.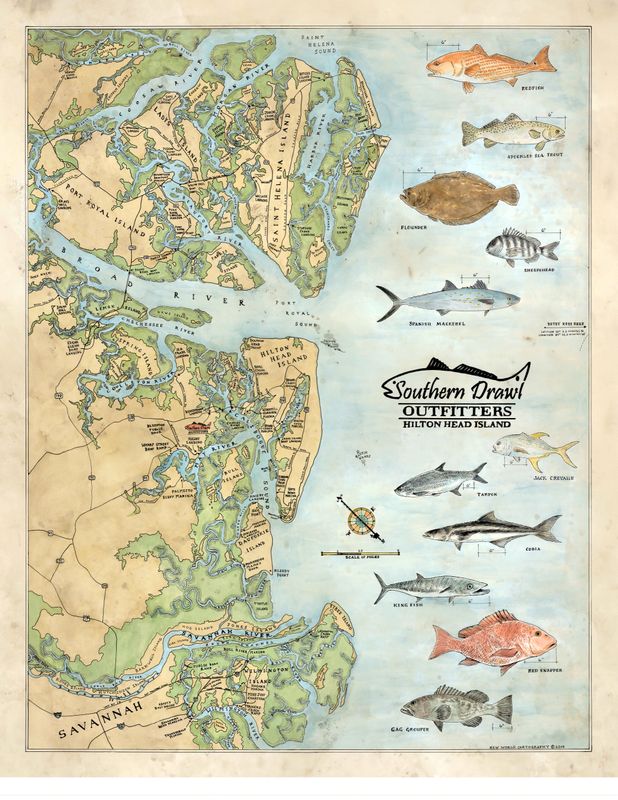 "We're excited about a client who came to us from Manila, Philippines. They've found us after working with two other companies to draw a map of their preserve, one hundred twenty thousand acres, in South Africa." says Travis.
I can't wait to see what the team comes up with.
Southern hospitality
For my interview, Travis invited me out to his family's land in Green Pond. He finished building a cabin right before the pandemic hit in February. The Folks have spent a considerable amount of time there over the last year.
The porch overlooks an old rice impoundment where Travis can walk out and hunt wood ducks and be back before breakfast.
They also finished a legitimate library with generations worth of the family's books lining 12-foot walls on 3 sides. The cabin and the library are just a stone's throw from his parent's house.
We spent the afternoon hunting squirrels. We didn't see any, but it was a lovely evening for a walk and some quality conversation.
Afterwards we settled into some comfortable chairs for a fireside chat over a pile of dogs and generous pour of rye. Travis is a generous host, an engaging conversationalist, and an all around good guy. I'm grateful for his time and hope to get to know him over a few more pleasant walks in the woods.
You can listen to my interview with Travis on the Hunting Fatherhood Podcast.